Gümüş Damla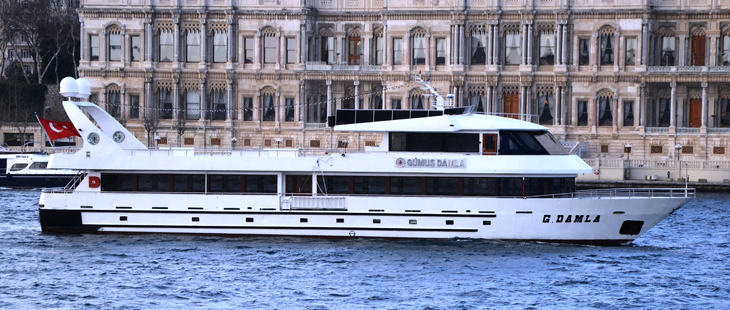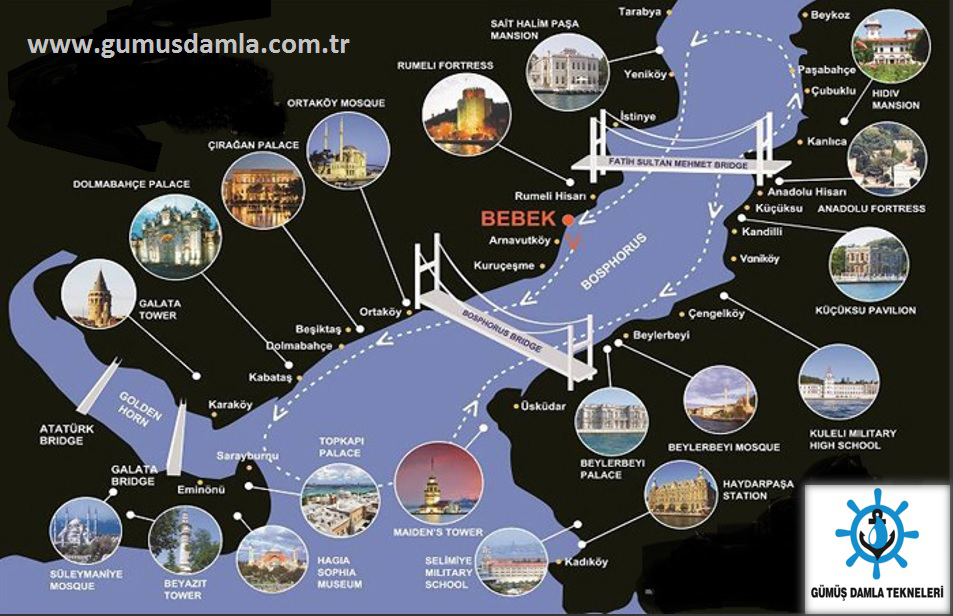 You can have a chance to see the historic places of Istanbul, so if you would like we can pick you up from a predetermined pier for boarding and arrange a half day Bosphorus tour for 2 hours or Bosphorus tour full day for 7 or 4 hours. Bosphorus tour for full day starting from Kabataş Pier; you will see Dolmabahçe Mosque, Neo-baroque style Clock Tower, Dolmabahçe Palace, Ciragan Palace, Ortakoy mosque in Ortakoy, First Bosphorus bridge and timber mansions along Kuruçeşme and Arnavutköy, Akinti Burnu(Cape of the Current) that is the deepest part of the Bosphorus, Bebek Bay, Egyptian Consulate and Bogazici University and then we will pass under Fatih Sultan Mehmet Bridge (the second Bosphorus bridge) continue to Baltaliman which comes next and then contiguous Emirgan, İstinye, İstinye Marina, we will pass by timber mansions and see Yenikoy district and continue the tour from the Anatolian side.
If you would like to complete 7 hours for full day tour we can continue from Yenikoy and heading to Tarabya, Keçiburnu, Büyükdere, and Sarıyer coast, and arrive Fortress of Rumeli Hisarı and from there we can go to Anatolia side and sail to Anadolu Kavagi, Beykoz coast (route of crossing points for 4-hours of tour to get to the Asian side) Kanlica, Anatolian Fortress, Küçüksu, or Little Stream, Göksu, or Sky Stream, Küçüksu Pavilion, (Mehmed Emin Pasha the Cypriot) Kıbrıslı Mehmed Emin Pasha mansion (one of the largest mansions of Bosphorus in Kandilli) Beylerbeyi, Beylerbeyi Mosque, Beylerbeyi Palace, Üsküdar, The Maiden's Tower and then last point Kabatas where we drop off our passengers.
Tour of Historical Peninsula
Depending on our guests for 2 hours we can departure from Kuruçeşme sail to Ortakoy, Besiktas Ciragan Palace, Dolmabahce Palace, Kabataş, Tophane, Pera Palas, Galata Tower, Karaköy, Eminönü (New Mosque), Gulhane Park, the Topkapi Palace and see The Minaret of Hagia Sophia Mosque from a distance and then get back to Anatolia side and cross the coast from The Maiden's Tower, Üsküdar, Kuzguncuk, Beylerbeyi Palace, Cengelkoy, Kuleli Military High School and finish our tour at Kuruçeşme.
Our range of fine-dining packages are prepared by our master chef in the kitchen of Gümüş Damla boat. The service for tasting dishes is provided before the tour depending on our guests if they care to. We provide A STANDARD DECORATION PACKAGE as free of charge for our guest. The package consists of Tiffany chairs in doré colour, candelabras, charger plates and artificial flowers. There is also a cocktail layout with white lounge chairs, glass bistro tables and coffee tables.

Bosphorus Dinner Cruise takes minimum 3 hours and maximum 4 hours. You may find 4-hour tour route from the Bosphorus tour section. Kuruçeşme or Kabataş Piers are for boarding on the European Side; pick-up and drop-off service as free of charge in front of Kuleli Military High School on the European Side is available. If our guests would like us to provide pick-up and drop-off service from/to their hotel we can arrange accordingly. When we provide pick-up and drop-off service, the mooring fees must be paid for all ferry ports. Other venues where we can berth directly; Tarabya, Emirgan and in front of Rumeli fortress, Ciragan Palace, Four Seasons Hotel, Su Ada (Water Island), Reina, The Maiden's Tower, Feriye Restaurant, Sait Halim Pasha Mansion, Kordon Restaurant, Del Mare, Les Ottomans Hotel and Ajia Hotel.

Menu details are available via menu links on home page of our website.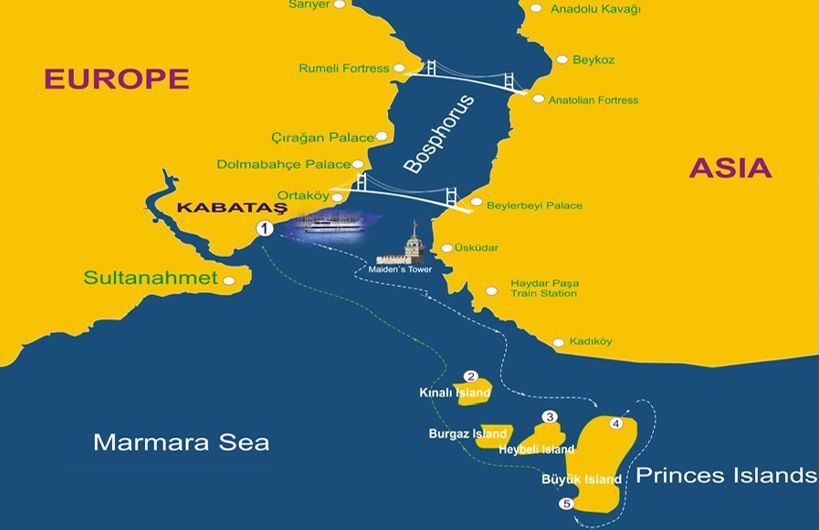 One of the most popular summer trips Islands Tour takes 8 hours. Arrival for the requested island after a trip from the Bosphorus takes about 2 hours. The most popular islands are Büyükada (Prinkipo) the largest and most populous of the isles, Heybeliada (Halki), Burgaz (Antigoni), Kınalıada known to the Greeks as Proti and Sedef Island the Island of the Pearl, known in Byzantium as Antherovitos. If our guests would like to see any of predetermined islands they can get off the boat and visit the beauties of these islands or cruise along by our boat except Sedef Island. Dishes are served according to the pre-defined menu selections upon request of our guests.
We offer a transfer service with welcome cocktail up to Atakoy Marina for our guests who are looking for an alternative to get rid of the heavy traffic of Istanbul or would like to go to restaurants, hotels and places located around the Bosphorus or Ataturk Airport.
Günü birlik boğaz tur ve gezileri için Kiralık Tekneler*
Yat Kiralama
,
Kiralık Tekne
,
İstanbul Boğaz Turu
,
Boğaz Turu
, Teknede doğum günü
* Tekne Kiralam İstanbul...
Tekne Kiralama ve Organizasyonları konusunda Gümüşdamla öncü kuruluştur
Gümüşdamla Kiralık Tekne ve kiralık yat hizmetleri ile, Teknede Boğaz Turu, Teknede Doğum günü, Teknede Evlenme Teklifi edebilmek için en doğru firmadır.
Kiralık Tekne Firmaları
Gümüşdamla Kiralık yat ve organizasyonları ile ihtiyaç halinde müşterilerine butik bir hizmet vermektedir.
Boğazda evlenmek isteyen veya nişanlanan çiftler için özel hazırlanmış ve dekor edilmiş yat ve tekneler ile hizmet vermekteyiz.
Kiralık Tekne ve Yat Hizmetleri, Yat Kiralam ve Kiralık Tekne...