Silver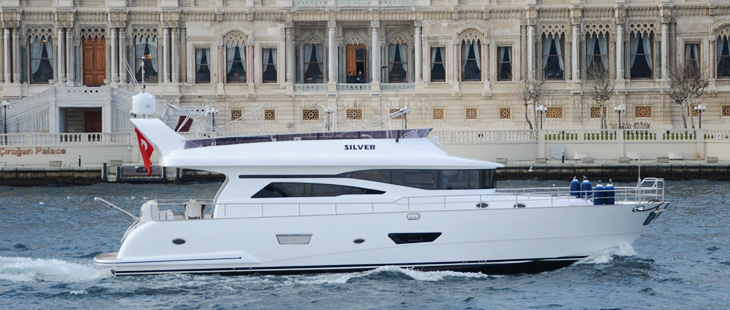 Launched in 2012, she has a capacity of 36 persons including the crew; 20.5 meters length, 5.10 meters width, saloon's height is 2.20 meters. Our boat has 2X Caterpillar branded engines 575 MHP/2500RPM with Köhler 13 KW generator, suitable for fast transfers. Our yacht has 2 cabins - one of them is master cabin and bathroom- also 2 toilets in the saloon, 1 kitchen, 1 bar, air conditioning, LCD Display, Digiturk and satellite broadcasts, internet, lap top, sound and microphone systems and DVD player are available.
Square Table Layout: Yacht Silver serves up to the total of 24 people with 3 square tables X 8 seats.
I Layout : Our boat serves up to 20 people at tables set in the shape of a single block table.
Back Pool: table layout is set for 10 seats.
Table layout for 30 seats: Table layout is available for up to 24 or 20 people inside of the boat and 6 or 10 seats at the back pool.
Upstairs table layout: It serves up to 15 people.
Cocktail Style: Our boat serves up to 30 people standing with cocktail layout FLYBRIDGE (upstairs) seating layout is set for 21 people.
Günü birlik boğaz tur ve gezileri için Kiralık Tekneler*
Yat Kiralama
,
Kiralık Tekne
,
İstanbul Boğaz Turu
,
Boğaz Turu
, Teknede doğum günü
* Tekne Kiralam İstanbul...
Tekne Kiralama ve Organizasyonları konusunda Gümüşdamla öncü kuruluştur
Gümüşdamla Kiralık Tekne ve kiralık yat hizmetleri ile, Teknede Boğaz Turu, Teknede Doğum günü, Teknede Evlenme Teklifi edebilmek için en doğru firmadır.
Kiralık Tekne Firmaları
Gümüşdamla Kiralık yat ve organizasyonları ile ihtiyaç halinde müşterilerine butik bir hizmet vermektedir.
Boğazda evlenmek isteyen veya nişanlanan çiftler için özel hazırlanmış ve dekor edilmiş yat ve tekneler ile hizmet vermekteyiz.
Kiralık Tekne ve Yat Hizmetleri, Yat Kiralam ve Kiralık Tekne...